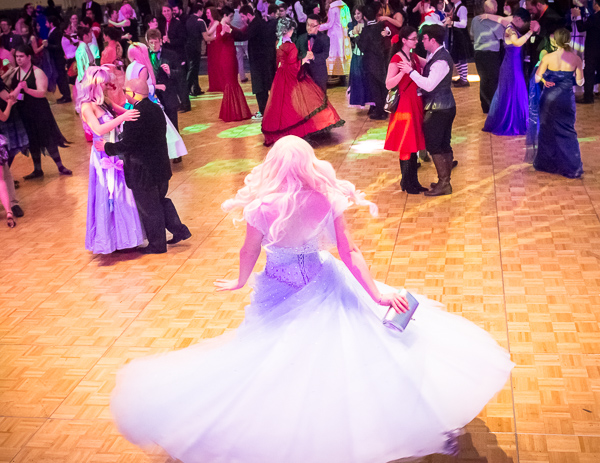 Ladies, wear your finest! Gentlemen, dress sharp! We are having a grand ball where you can dance and mingle with all of Katsucon's fine attendees. From classic waltzes to contemporary dances, everyone will be able to enjoy a night of fun and excitement!
Don't know who to dance with? No problem! Pick up your green dance bands at the door to let others know you're open for a dance!
We will also be giving away a prize for best attire so dress to impress! No entry is required: a costume judge will let the winner know to stick around to the end of the ball to collect their prize. You must be present to win.
Dance lessons will be held prior to the ball, see the schedule for details.
Before reading the rules for the dress code please familiarize yourself with the Katsucon Attendee policy.
NOTE: In your selection of dress, please keep in mind you need to be comfortable. We highly recommend that you do not wear anything that will constrict, restrict, and possibly need the jaws of life to get you out of, in the case of an emergency. Also keep in mind that your shoes should be comfortable and good for dancing. Stumbling about in too-tall heels is a hazard to yourself and others. Clothes must also be worn appropriately, meaning keep those shirts tucked in!
Any inquiries regarding the ball, dress code, or song requests may be made at [email protected]
Katsucon Ball Dress Code
Absolutely NO::
T-shirts or casual shirts, jeans, sneakers, bare feet, flip-flops, large props, weapons (real or fake), large wings, mascot costumes (that are not dressed formally), kigus, spiked belts, masks or headgear that obstruct your vision, costumes made from fishnets, other sheer material, armor, chainmail, or duct tape. No extremely tight fitting clothing. No rave gear or fake hair dreads. No revealing clothing whether it is the chest, belly, back or legs. No wet liquids on your person such as body paint or fake blood (body paint is allowed so long as it is dried and sealed). No long trains on dresses/skirts. No wigs or head pieces that are a hindrance to your vision or to others around you.
Allowed under certain Circumstances::
Skirts/Dressy Shorts – Must be at least knee length (or just above the knee – just keep it tasteful) and formal looking. No mini-skirts. Must be paired with formal looking tops.
Shirts/dresses – No Casual shirts/Must not be extremely low cut in the front or back and dresses must be at least knee length as well. Must be 'formal' looking.
Kilts – They must be formal and be worn with formal Scottish attire. No utili-kilts.
Steampunk – Must still follow the formal guidelines. No large props or weapons will be allowed into the ballroom.
Flats/Sandals (shoes) – are allowed but they must be 'dressy' flats, no flip flops.
Boots – are allowed, but they must be formal with no tread. No spikes, high platforms, high stilettos, straps, or metal.
Zori or Geta – Are allowed with traditional, formal, Asian clothing.
Heels – Must be lower than 4 inches, no excessive platforms or heels.
Hats – No baseball hats, beanies, bandanas or any casual headwear.
Masks – Must not cover your entire face at ANY time/we must be able to see your face. Masks must not be worn until you are inside of the ballroom (meaning the door security has to be able to see your face for you to be let inside), and if you are asked to remove your mask at any time by any staff member during the dance for ANY reason, you must do so.
What is allowed::
Black tie formal wear
Mens suits
Button down dress shirt and dress slacks, tie and belt highly recommended (Shirts must be tucked in), a jacket is also recommended.
Formal Military attire
Ballgowns
Kimono's and traditional Asian clothing as long as it is formal
Prom/wedding style dresses/cocktail dresses
Formal period clothing (no casual period clothing)
Dressy Separates
Mens dress shoes
Womens pumps/heels/dress shoes
Period shoes paired with formal period clothing
Cosplay/Crossplay is allowed (and encouraged!) so long as the costume meets the above requirements. While the door crew is very familiar with many animes/genres they haven't seen everything, so while you might think something is formal we may not think so and it may not be allowed. If you have ANYTHING you're not sure about and want to know if it will be allowed, just send us a picture and we will get back to you with whether or not it will be okay to wear to the formal dance. We realize that some things might not be accepted where you think they ought to be, but the entire dress code was carefully thought out and the rules are there for a reason. Please do not argue with the door crew.
**At this time attendees are permitted to carry SMALL bags/purses/clutches/camera bags into the Ball. No bags larger than a standard DLSR camera case will be allowed. If you have a bag that is not permitted you will be asked to take it back to your room or to the bag/coat check available in the Gaylord. Likewise any outerwear such as a coat or jacket (not part of your ball attire) should be taken to the coat check prior to entering the ball. Katsucon and Gaylord staff are not responsible for lost or stolen items so be mindful when you leave things unattended.
**If you are VIP or have accessibility needs please proceed to the front of the line and notify the door staff.
IMPORTANT NOTE:: It is illegal to wear a mask in National Harbor. Therefore if a mask is part of your costume, whether it is for the ball or otherwise, please remember that you are only permitted to wear it inside of the Gaylord National Hotel and Convention Center.
Acknowledgement: Large portions of this dress code have been reprinted, with permission and our deepest thanks, from AnimeUSA's Formal Dance dress code.